Fly Zapper
Product Details

Other Images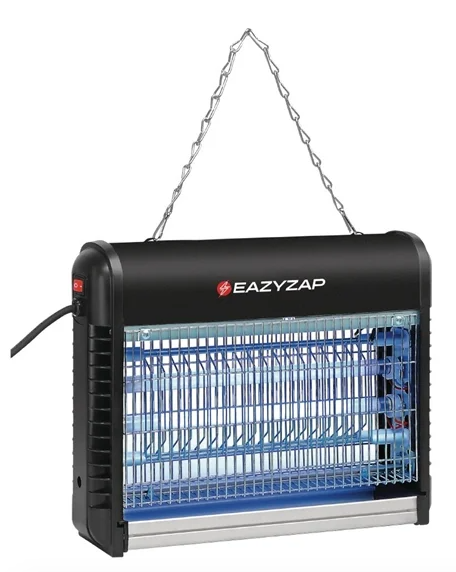 SKU: TA471
The Eazyzap LED fly killer is a fantastic choice for pest control where effectiveness and impressive efficiency are a priority. Fitted with energy-saving UV LED bulbs, the fly zapper quickly attracts flying insects into the unit, significantly improving hygiene, reducing the spread of germs and reducing your running costs.

The large 50m2 coverage ensures the zapper is great for most areas, whilst the long-lasting LED bulbs have an extraordinary rated lifespan of up to 10,000 hours, meaning far bulb fewer changes than traditional insect killers. Perfect for keeping costs down and improving hygiene in any professional kitchen or food service area.
Product features
Dimensions 272(H) x 350(W) x 86(D) mm
Warranty 1 Year
Weight 2.05kg
Colour Black & Aluminium
Supplied with chain for easy ceiling hanging
LED bulbs rated for up to 10,000 hours of use - twice as long as traditional bulbs
Up to 50% more efficient than fluorescent bulbs - significantly reduces running costs
Highly effective at attracting and removing flying insects
Powerful electric zapping grid
Collection drawer is easily fitted and removed for fast cleaning
Simple on/off switch to save energy when not required
Get Started
Getting set up with BCS is easy. Just email us at info@bcs.supplies and we'll do all the heavy lifting for you. Start benefitting from better service, faster deliveries and lower prices now!
BCS
35A Vale Road
Brighton
BN41 1GD
Company Details
Brighton Catering Supplies Ltd
Registered in England No: 07753647
VAT Registered No: 121156656
Pricing
We beat most competitor pricing. All you have to do is give us a specification and approximate volumes.
Payment Options
We can set up a credit account for you fast, and you can pay by Direct Debit, Cards or Bank Transfers; the choice is yours
Delivery
Free Delivery, Same/Next day throughout London, Surrey & Kent. Just get in touch to find out your route.
Products
If we don't have something you need, we'll find it and set it up for you for your regular deliveries.