Centrefeed, Blue, 100m (6)
Product Details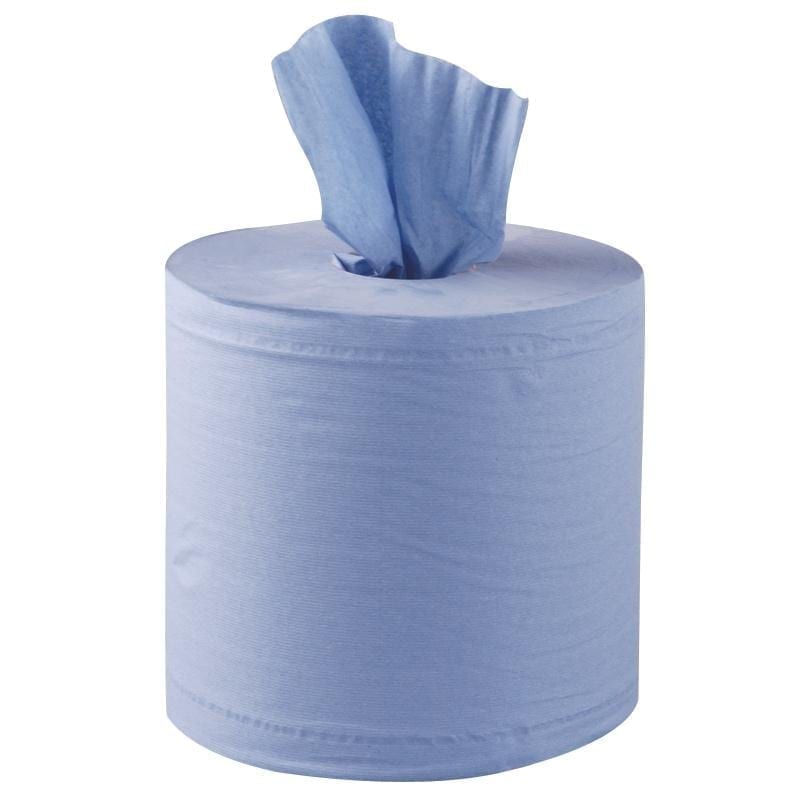 Other Images
SKU: IMP1086
Blue roll is ideally suited for use in both commercial and domestic kitchens, especially food preparation areas.
This 6 pack of 2-ply blue rolls is perfect for absorbing spillages, cleaning appliances and surfaces as well as drying hands. The centrefeed roll design allows these blue centrefeed rolls to be used with dispensers such as the IMP1084, creating a cost effective and efficient paper roll dispensing unit, or on their own for quick and easy, portable cleaning.
The roll measures 100m in length, giving you plenty of roll for use in a wide range of applications, from drying hands to cleaning equipment and surfaces. How to remove the centre - To remove the centre from your blue roll, simply place it on a flat surface and turn the roll so you can clearly see the join in the core. Once located, turn the roll so that the end of the join is pointing towards your body. Place your thumbs inside the core, grip the blue roll and exert a strong and steady outward pressure. This will cause the core to begin to come apart at its seams. Once the core has begun to come apart, you can reach inside the centre of the blue roll and pull the cardboard out. With the cardboard removed, the roll will feed from the centre and make dispensing easy. This has to be done before you use the roll with a centrefeed dispenser. With the centre removed, these rolls are super quick and easy to use.
They are perfect for use in almost any environment. The blue colour of the tissue uses the same ethos of the detectable plaster. As blue is a very rare colour in the natural world, it is perfect for the colour of the tissue you use to clean around food preparation areas. Likewise, the roll is ideal for use in hospitals as it is detectable.
Get Started
Getting set up with BCS is easy. Just email us at info@bcs.direct and we'll do all the heavy lifting for you. Start benefitting from better service, faster deliveries and lower prices now!
BCS
3 Wellington House
Camden Street
Brighton
BN41 1DU
Company Details
Brighton Catering Supplies Ltd
Registered in England No: 07753647
VAT Registered No: 121156656
Pricing
We beat most competitor pricing. All you have to do is give us a specification and approximate volumes.
Payment Options
We can set up a credit account for you fast, and you can pay by Direct Debit, Cards or Bank Transfers; the choice is yours
Delivery
Free Delivery, Same/Next day throughout London, Surrey & Kent. Just get in touch to find out your route.
Products
If we don't have something you need, we'll find it and set it up for you for your regular deliveries.